Ref:
Date:
Location:
Photographer:
Ref:
Date:
Location:
Photographer:
John Bishop is coming to town.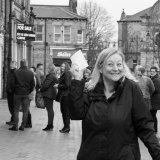 Comedy fans queued from the early hours to get hold of tickets when it was announced that John Bishop was coming to their town.
It was an early start to the day on Saturday, 5.30am to be exact. I had been asked if I would take photographs of people queueing for their John Bishop tickets in a little town called Ossett, just outside of Wakefield. I also went along to join the queue to get hold of some tickets myself so taking a few photographs at the same time seemed the logical thing to do, especially as I nearly always have a camera with me.
09/03/17
Bleary eyed, I loaded my camera bag with my camera and a couple of lenses, a wide angle and a telephoto to capture some candid portraits. Thankfully, the early rise was worth it and I did manage to get the tickets. However, I wasn't the first there by any means. Some fans had queued from as early as 3am to get their hands on the theirs which went on sale at 9 o'clock that morning.
It had been a two-year long campaign to bring the comedian to Ossett, a small town just outside Wakefield and about five miles from where we are located. Dozens of people lined the streets ahead of the first batch being released on Saturday morning. One eager fan came complete with sleeping bag and flask. Armed with my camera with the wide angle lens, I managed to snap several photos of the long queues that formed across the precinct from the three local businesses who had agreed to sell the tickets. Within a few minutes all the tickets had gone but, fortunately for those who had missed out, John had agreed to do a second gig and the crowds packed into the precinct for a second time to secure their spot in the comedian's audience, when the remaining tickets went up for grabs on Wednesday.
The atmosphere and community spirit was amazing. Switching to my telephoto lens I was able to capture several close up photographs of people smiling and laughing. Everybody was cheering each other when they got hold of their tickets and although it was freezing cold after queueing for hours, the eager fans were more than happy to pose for their photograph in front of Ossett Town Hall, the venue where John Bishop shall be performing on the 10th May. Switching the lens on my Nikon digital SLR once more I was able to capture a few fans with their tickets whilst keeping the venue in the background.
I headed out with my digital SLR and lenses once more on Wednesday morning, although not so early this time as I already had my tickets. Once again, fans had begun to form queues from the early hours. Tickets for the second performance sold out just as quickly as the first and the 1,000 available tickets for the two gigs had sold out within ten minutes of going on sale at the town centre businesses this week.
The whole event was the brainchild of Ossett local, Howard Lawton who came up with idea two years ago to campaign for John to perform in his local town. He set up a social media group on Facebook and the whole thing just spiralled from there.