Ref:
Date:
Location:
Photographer:
Blog
Ref:
Date:
Location:
Photographer:
02/03/18
How have you spent your snow days? Not content with staying huddled up in front of the fire, I ventured out, armed with camera and tripod to photograph some public houses along Barnsley Road in Wakefield.
...more
21/02/18
A few weeks ago we submitted an image into the Guild of Photographers Image of the Month competition. The standard of entries is always extremely high so we were absolutely delighted when we were awarded a bronze for this image today, especially as this was the first time ever we have entered a photography competition of any kind.
...more
25/12/17
Once again our Christmas mini photos hoots have proved to be very popular. Two weekends were scheduled for the shoots this year which very quickly became fully booked and we even managed to fit in a couple of last minute requests the day before Christmas eve. It was a bit of a rush but we still made sure our happy customers had there photos in time for Christmas.
...more
09/12/17
Earlier today we were honoured to be asked to take photographs at a charity fundraising event at Dimple Wells Lodge Hotel in Ossett near Wakefield. The annual event, organised by Flag Fundraising, was in aid of Wakefield Hospice and included a number of stalls selling Christmas gifts, cakes and other goodies. Santa was there too, in his grotto aided by two of his elves and the event was also visited by no other than Princess Tiana and Cinderella. As well as a few photos taken to record the event we also took lots of lovely photographs of happy children reaching their Christmas presents from the big man himself.
...more
04/10/17
A couple of weeks ago we had the wonderful pleasure of photographing Andy and Rhea's wedding at Bagden Hall Hotel.It was a wonderful Autumn day for a wedding and the sunshine showed it's face for a few times. .
...more
09/08/17
Young local girl, Clare from Ossett near Wakefield braved the shave in aid of MacMillan Cancer fund. Lots of locals came to see and support the ent which was held at The Prince of Wales pub in Ossett, West Yorkshire. Here is a sample of our record of the event that we photographed on one of our cameras.
...more
09/08/17
We had the pleasure of heading over to Saturn Studios in Normanton as part of a charity photo shoot organised to help raise funds for Wakefield Hospice. It was a super day photographing models using the wide variety of studio backgrounds and sets made available. A number of photographers from Wakefield and surrounding areas were there and the event lasted for much of the day. Over five hundred photographs were taken on my Nikon camera alone. Here is a montage of the super models we photographed at the West Yorkshire studio.
...more
09/03/17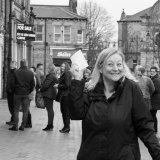 Comedy fans queued from the early hours to get hold of tickets when it was announced that John Bishop was coming to their town.
It was an early start to the day on Saturday, 5.30am to be exact. I had been asked if I would take photographs of people queueing for their John Bishop tickets in a little town called Ossett, just outside of Wakefield. I also went along to join the queue to get hold of some tickets myself so taking a few photographs at the same time seemed the logical thing to do, especially as I nearly always have a camera with me.
...more
25/02/17
Last weekend, I went along to the O2 Academy in Leeds to give support to local singer/songwriter, Loz Campbell. I had photographed Loz perviously at her CD launch held at Unity Works in Wakefield so I had already decided that the camera should go along with me but to take it I would have to get my hands on a photography pass if I wanted to get near the front and not risk having my DSLR and lenses confiscated. A few texts and Facebook messages later I managed to secure a photography pass. This meant that I was able to get right up closeto the stage beyond the barriers.
...more
04/02/17
Yesterday evening we had the honour of photographing the prom fair held at the Hotel St Pierre in aid Wakefield Hospice. A terrific evening was had by all and over £1000 was raised at the event.
...more
Eternity Photo Booth
08/01/17
Introducing Eternity Photo Booth
We now provide photo booth style photography. We provide a wide range of props for your and your guests to dress up in and pose in front of the camera. All of photographs will be taken on a full frame digital SLR providing the same quality of images that we provide with all of our photograph services. Each photograph will be shown immediately on a large preview monitor and all of the images are uploaded to your own password protected gallery where you and your guests can view them immediately on your mobile device. These may then be downloaded for free, shared with friends or posted on social media.
As an introductory offer, prices will start at just £150 for two hours.
Photo Booth for children's parties and daytime events £150
Please add £50 for each additional hour.
Photo Booth for evening events and weddings £190
Please add £70 for each additional hour.
Scarborough by night
14/11/16
We took a short well deserved break this weekend but of course... my camera never gets a break so I couldn't resist taking a few long exposures during the evening. It was bitter cold but well worth the effort.
Evelyn Rose's Fairy Photo Shoot
13/11/16
We photographed this little sweetie again today almost one year since we had the pleasure of photographing her for her newborn shoot. After a few magical fairy photographs, Evelyn's mum brought out the cake and and a 'smashing' time was had by all.
Lily's first photo shoot
21/07/16
Six month old Lily was an absolute pleasure to photograph and those eyes of hers were to die for.
It is hard to believe that these shots were taken in a cramped, partially decorated kitchen in the client's own home. A home studio photo shoot costs just £50 for one hour or £70 for up to two hours We feel that young children and babe are often more comfortable in their own home so we bring our portable backdrops and lighting to you.
Click here
if you would like more information or would like to make a booking.
Photo shoot and canvas offer
27/05/16
LIMITED OFFER!
One hour photo shoot plus private online gallery (30+ images) and one 40.5cm x 40.5cm montage canvas print. Just £95 (normally £120)
Engagement shoot offer
27/05/16
LIMITED OFFER!
Engagement photo shoot. Normally £95. NOW ONLY £50.
Includes a one hour location photo shoot, private online gallery @ www.eternityphoto.smugmug.com (minimum of thirty images) and ten free high resolution images for you to download and print as you wish. On top of this, should you decide to use our services for your wedding we will refund you with the £50.
10/02/16
The location shoot lasts for one hour and is a great way of getting to meet you both in an informal and very relaxed way. It includes your own private online gallery containing a minimum of forty images and a fabulous, professionally designed signing book containing your favourite images. It is available in a variety of finishes and colours. The total value for the shoot and the book would normally cost £190 but we are offering them absolutely free when you book us to photograph your wedding.
Please note, the photo shoot and the wedding can be at any time within the next two years but must be booked (£100 holding deposit) during February 2016.
Please contact us for a no obligation home visit to view samples of our work
...more
Massive congratulations to Mr and Mrs Goaley
02/02/16
The weather may have been wet and miserable at the weekend but it didn't dampen the spirits of this lovely couple. We had a great time being part of Martin and Gillian's special day.
You can view all of the images here
A few kind words
21/01/16
We are pleased to say that every one of our customers are more than happy with the work we produce as they often come back for more and recommend us to their friends and family. However, it is really lovely when our customers go to the trouble of sending us written feedback either via e-mail or through our Facebook page. We really do appreciate it.
Cake Smash
27/07/15
First Birthday cash smash photography is proving ever so popular. The photo shoot takes place in your own home and there is no need to worry about the mess al over your floor as we bring along our own wipeable vinyl flooring. Once the little one is all messed up and the cake is demolished we can stay a little longer and photograph him or her having more fun - this time with bubbles as they get cleaned up in the bath afterwards. Cake smash photo shoots cost just £50 or £60 if you would also like some bubble bath photographs too. As far as the cake goes, simple is better and preferably a soft sponge so your little one can break it up easily. We can also provide the cake if your prefer - please ask for details.
New wooden USB and album combination
06/06/15
Our USB and album combination has proved ever so popular and we are now pleased to announce that it is now also available with a wooden USB and presentation box.
The album cover is available in either hessian or a choice of twenty one different leatherette covers and the USB and box can be personalised with laser etching or your favourite image.
These are a great way of presenting bump to baby, engagement shoots, family portraits or any other kind of photography including weddings.
Wedding packages, including a full set of edited high resolution images o the USB plus a selection of favourite images presented in the album, are available from £495 up to £845 for full coverage from bridal preparations up to the first dance.
Combined make-over and photo-shoots.
16/03/15
Eternity Photo are proud to announce that we have now teamed up with a local make-up artist, Truley of Truley Rose Make-Up Artistry, to offer you a combined make-over and photo-shoot package.
Prices start at £65 including full make-up, one hour location photo-shoot, a private online gallery (minim 30 images), ten free web sized photo downloads and two free 10"x 8" prints.
A home studio shoot costs £10 extra.
Hair styling may also be included for an additional £10
Click here to see a sample gallery of images
Ossett Wedding Fair
09/02/15
Come along and see us at the Ossett Wedding Fair at Ossett Town Hall on Sunday 1st March 2015. The event is free and is open from 11am to 4pm. Lots of exhibitors plus a free raffle.

Click on the link below and enter the free raffle.
An evening of Northern Voice
07/11/14
This evening we had the honour of photographing a trio of artists from the 2014 series of The Voice. Sophie May Williams, Georgia Harrup and Chris Royal sang to an appreciative audience at Trinity Church in Ossett, West Yorkshire.
You can view all of the images here
Autumn Photo Shoots
29/10/14
Our mini Autumn photo shoots are proving ever so popular. A thirty minute location photo shoot, password protected online gallery plus one 10"x 8" enlargement of your choice for just £30. You could also treat a loved one or a special friend and book a shoot for them. Autumn shoots are available on selected dates until the end of November but places are quickly being booked up so make sure you don't miss out.
New Art Book
27/10/14
We just love this new Artbook from MTA.
Available in full leather, fabric or complete with an image cover like this sample we have just received.